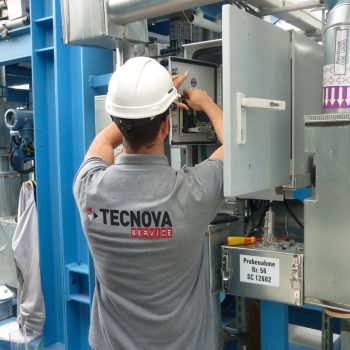 TECNOVA HT and its Service Department are committed to providing our Customers with the highest possible standard of customer care by offering an extensive range of services worldwide 24/7/365:
Pre-Commissioning, Commissioning, Start-Up & SAT Site Acceptance Test

On-Site Training

PPM Planned Preventive Maintenance & Yearly Validation

On-Call Maintenance, Repairing Service & Spare Parts Management…
To ensure the system performs in accordance with legal or customer's standards, our service team can carry out a full site survey TECNOVA HT has a dedicated team of trained engineers and technicians who are able to ensure the Reliability, Integrity, Safety and the Opex reduction of each process unit or analysis system. How?
making the necessary recommendations to Management to maximize the ROI Return of Investment
suggesting upgrades and retrofit measures ensuring the latest technology can be easily and quickly integrated into existing control loops
designing a complete system tailored to meet Customer's & Legal requirements
For example, CEMS Continuous Emission Monitoring Systems supplied by TECNOVA HT are based on
Gas analysers compliant with EC 2001/80 , TÜV or EPA USA approved
QAL1 and QAL3 certifications provided in accordance with UNI EN 14181
Supervision of third-party accredited laboratory to get the QAL2
Linearity check in order to verify the IAR relative accuracy index
Remote Control & Assets Management by VPN or GSM device
Moreover, in Liquid Analysis business TECNOVA HT Service Dept. is proud to support the life cycle of any stand-alone device as well complete systems by offering:
On Site Survey to identify any technical requirements
Specific Analysers suitable to meet legal requirements mandatory for WWT
Fully tailored sampling & conditioning systems
Rental Service for Viscometers, Refractometers & Turbidmeters: one week or one month, it doesn't matter.
Yearly Validation of each single device by Certified Refractive Index Liquids or by Certified Optical Filters
Spare Parts Management
Thanks to our extensive experience in Flowmetering, TECNOVA HT Service Team is always ready to support Customers' Technicians in field testing of installed flow meters, assessing their performance or evaluating the option to install a brand new flow meter gathering all the needed data like:
Process Conditions
Different Runs
Piping Layout
Safe or Haz area
Available budget
Training from TECNOVA HT Service team really upgrade the knowledge of Customer's employees. Our wide range of workshops and training courses offer specific and reliable information regarding several operative and maintenance topics. Each session is based on theoretical modules but also operative ones: the Operator will understand "why it works" and "how it works", learning how to set main parameters of each Instrument or understanding the meaning of outputs, values and alarms.
TECNOVA HT Service team is based only on skilled employees: we don't rely on outsourcing, preferring instead to retain the valuable skills and abilities of our dedicated team members.
See you on site!